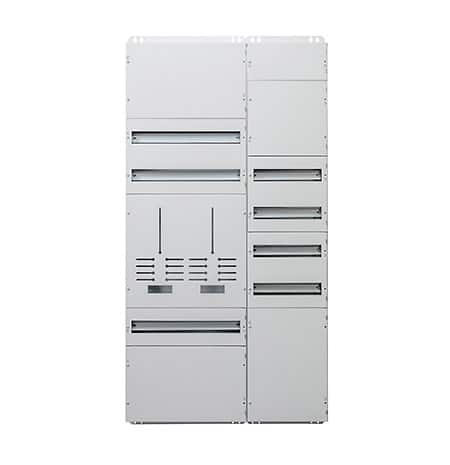 Enclosure- and cell centre systems (3150A)
The components of this most diverse system in the market can be assembled in numerous combinations, from smallscale electric outlet enclosures to L- and U-shaped industrial distribution boards.
F-series is available in two parallel versions: F and F NBS, which are nearly identical apart from the base structure. In the F NBS system, the side panels can be installed last after the cabinet has been furnished and cabled.
Most frame parts have been provided with pre-punched holes, which makes protective grounding easy. Doors are grounded through the frame structure via hinges and screws. Compartmentalization and depressurizing ceiling structure contribute to user safety in the event of a short-circuit.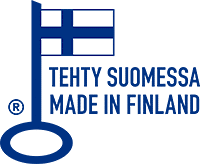 | | | | | | | | | | | | |
| --- | --- | --- | --- | --- | --- | --- | --- | --- | --- | --- | --- |
| Width | 300 | 450 | 600 | 750 | | | | | | | |
| Height | 140 | 280 | 420 | 560 | 700 | 840 | 980 | 1120 | 1400 | 1680 | 1960 |
| Depth | 80 | 160 | 250 | 320 | 510 | | | | | | |
| Base | 40 | 140 | | | | | | | | | |
Nominal
voltage Un
Insulation
voltage Ui
Nominal
current In
Thermal short-
circuit Icw
Dynamic short-
circuit strength Ipk
Nominal
frequency f
< 690V
1000V
<1000A / <3150A
< 21,6kA / < 60kA
<42,6kA / < 132kA
50 – 60Hz
| Enclosure class | Impact strength (outer/inner) | Type of subdivision | Material strength of doors |
| --- | --- | --- | --- |
| IP20 – IP55 | IK09/07 | 2,3,4 | 1,4 mm |
| Frame | Insulating flanges | Protective screens |
| --- | --- | --- |
| hot galvanized sheet metal | PC | hot galvanized sheet metal / PVC |
EN 60529
EN 62262
IEC/EN 61439-1
IEC/EN 61439-2
IEC/EN 61439-3
IEC/EN 62208